Regiopost is the local postal service for
the 3 most northern provinces of Holland.
The topics on their stamps are also
related to the 3 provinces. Local hero's
like the Popgroup 'De Kast', Menno
Simons, windmills, ice-skating events.
The stamps are quite atractive.
Regiopost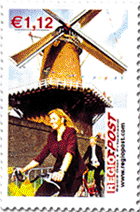 Princess Maxima and Prince Alexander on bike
The stamps of regiopost may
not always be what you like,
but for topic collectors they
are definately interesting.
They often provide stamps
missing in your topic
collection, that you would
never get through the
national postal service.
Besides, they are allowed
at international exhibitions
as part of your collection!
But they should be stamps
that are really used for
delivery!
Merenpost
Shipping Museum
Merenpost

Shipping Museum 2
Merenpost

Shipping Museum 3