Poststaking 1983 - Postal Strike in Holland
Relipost - The Netherlands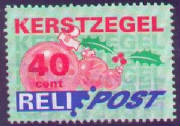 Christmas Stamp
In 1983, the Dutch Postal Service went on strike for quite a long time. And suddenly people went to the Local Postal Services to deliver their mail. Mainly local, but some of the local post services decided to work together and therefore they also delivered mail in other parts of the country.
Though the services are only allowed to deliver printed matter, which includes postcards, postcards with envelop, commercial mail, wedding invitations, etc. but no letters, most of these local post services have become actractive. They are cheaper than the national postal service, started to create their own interesting stamps and fdc's, and sometimes deliver same day.
Others, like Relipost, only deliver during Christmastime. Relipost works nationwide, and is a Private Postal Service originated in some churches. The money from the stamps is used for the youth groups within these churches.
Relipost - The Netherlands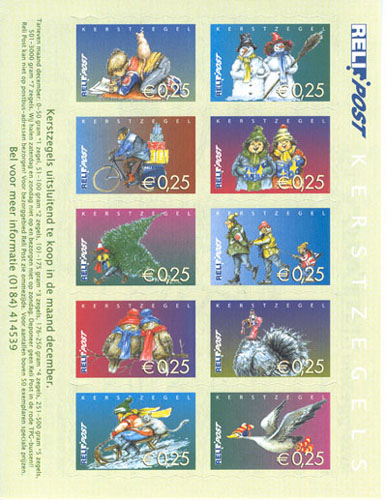 Sheet of Christmas Stamps